I CHANGED MY DETAILING HABITS AFTER WATCHING A PRO DETAILER AT HIS SHOP
I TRIED THIS DETAILER-FAVORITE TRICK FOR 7 DAYS AND I'M NEVER GOING BACK!
If you have ever wondered why your car collects dust so fast and looks years older than it is, even after you wash it, then you need to read this story about how I discovered an amazing product called Torque Detail. Here's why: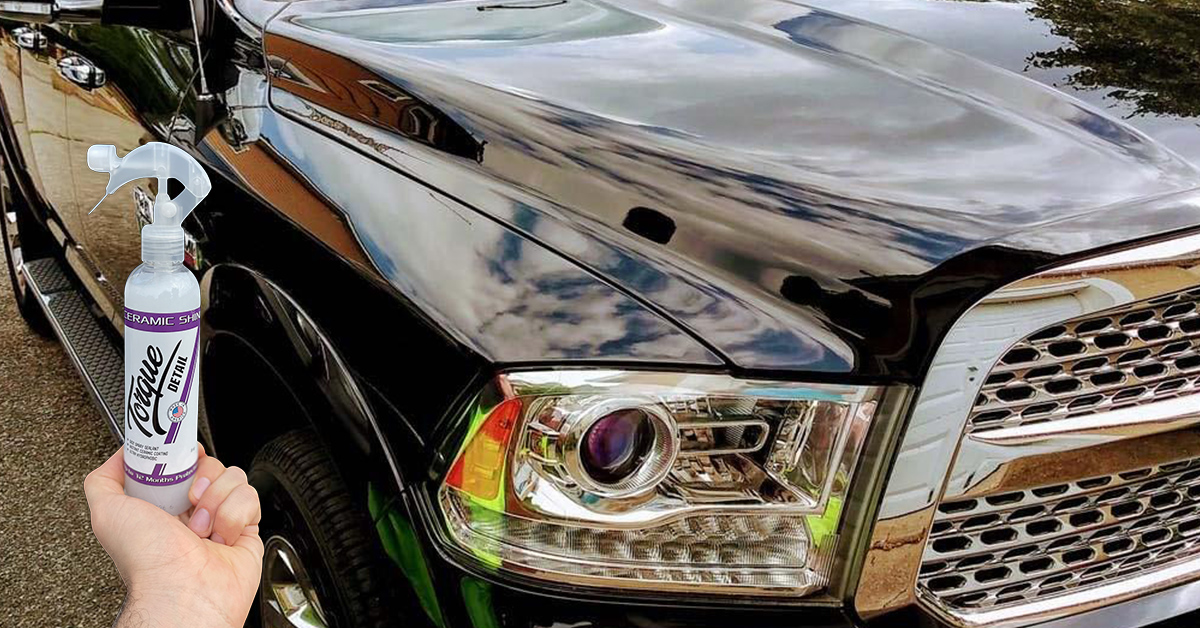 WARNING: This story will make you change the way you care for your car and the way your car maintains it's showroom shine!
Have you ever looked out your window to see your car caked in pollen, dust and water spots? It's pretty frustrating! The worst is when you spend hours washing, or pay for a car wash, and within a couple hours your car is caked with gunk. The last thing I want after a long day of elbow grease are ugly water spots etched into the car's surface. Not to mention the swirl marks that show after repeated washes.
On my last business trip, I stayed next to a professional detailer's shop (I'm pretty sure he was famous, because there was a line around the block).
The cars driving off his lot all looked exotic, glistening, and had that ultra-reflective showroom shine that you rarely see.
After 3 days, I was finishing up my trip, when I pulled out of the driveway and ran into the detailer on the street. I knew my Mustang was a mess, as it's black paint always seems to pick up debris, so I was pretty used to it by now. But when I turned to look at another Mustang in the lot next to me, it still looked like an absolute stunner! Is that even a real car?
As I was packing my suitcase into my trunk, I noticed the detailer waved to me as he put a small bottle into a box he had and walked away from the shiny Mustang.
"That's so smart to make your own detailing product!" I said to him.
"It's more than just another wax or sealant though. It helps me run my detailing shop much faster, because I don't need to use as many products on my clients cars. Here, try it out."
I held the bottle of clear liquid in my hand and pumped a few sprays onto the hood of my car. The car had a spectacular shine as I worked the product in with one of the towels the detailer had.
"It's got the same Ceramic technology that NASA uses for their components, so it does a tremendous job sealing your paint.
To be honest, I used to get some bad complaints about water spots and swirl marks from customers, and one of our chemists said it could be because I was using traditional carnauba wax.
So I started formulating my Ceramic Shine product, and two years, the water spots were gone!
And off he went with the picture perfect Mustang, glistening in the sun like it was a slow-motion car commercial.
If I didn't see it for myself, I wouldn't believe that a single product could be the create that spectacular of a shine and protection.
Ceramic Spray by Torque Detail3h>
I needed to get in on this magical little formula. As soon as I got home, I went online to do bit of research. This detailing product is no joke! Even nationally recognized detailers swear by this pillowcase. A hidden industry secret that is now available to me? Seemed too good to be true. But some of the claims really had me sold on the idea. The silicon dioxide (Sio2) in this Ceramic product provides many benefits while your car gets daily wear-and-tear.
The Easiest To Apply On The Market4h>
Simply spray-on the coating with microfiber sponge and buff to a nice shine with a microfiber towel. No need to worry about leveling, paint correction and other technical challenges with traditional ceramic coatings!
True Ceramic Coating Nanotechnology4h>
Not just another Sio2-infused quick detailer. Ceramic Shine™ is a heavy-duty coating; it chemically bonds to your clear coat in the same way a 9H Ceramic Coating does.
Repels Water, Dirt, Street Grime & More4h>
No more washing & waxing each month. Our formula is extremely hydrophobic; your car repels water and keeps dirt & debris from sticking.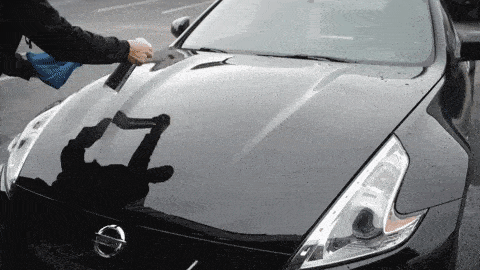 Save Money on Detailing Products (and Storage Space)4h>
Like most people, my car wash and wax routine happens much too frequently. I would love to cut this down. It's time consuming and costly. Buying separate products to prep the car and then seal the car, really burns a hole in my bank account! Sometimes I'm so tired on the weekends that I get too lazy to even apply all the products I have.
Hopefully Ceramic Spray lives up to the hype!
I Ordered The Ceramic Spray Online and Here's What Happened During My First Week:
Day 1:

Delivery was super quick which is always great. I opened up the package to find my bottle, trigger sprayer, prep wash, mitt and towels. The detailing towels were super soft and edgeless, which I hadn't seen before.

Before applying, I used their recommended "decon prep wash". It's supposed to strip off all the bad containments so your ceramic applies better.

My 67 Shelby GT obviously doesn't have the newest paint. After giving it a good wash, it was time to try this out.

Application was super simple and easy. It's nothing like traditional wax where you spend half the day buffing. You just spray it on, spread the product with one towel and a quick wipe with the other towel buffs it out.

Usually I'll crack a few Millers while I work and then pop some Advil when I'm done waxing. But hot damn, I barely finished my first can and my baby was already done! Right away she was gleaming in the Texas sun and the paint felt soft as butter.

Day 3:

2 days later a Texas rainstorm came thundering in. I was worried my handiwork would simply be washed away. The water seemed to float on the car in little beads. The hydrophobic was working, water didn't stick it just beaded off instead.

The next morning I took the dog out for a walk and I'll be damned… He stopped to look at his own reflection in the car's paint! To my surprise, there wasn't the usual water spots. If anything, it looked a little better than the first day still shining like glass.

Day 5:

It seems my ole GT was getting the ringer when the lawn guys came for the neighborhood. Grass getting clipped, lawns edged and cleaned up. Dirt and dust were blowing everywhere. I sighed and made a mental note to wash her again that weekend.

That ceramic sonuva bitch on the paint had other plans!! Dirt and dust didn't stick! I couldn't believe my eyes and decided I'd golf Sunday now instead of washing the car again.

Day 7:

I pulled up to the country club and the valet had a shit eating grin. "What's got you so worked up today?" I asked.

"I see Porsches, Mercedes… even the occasional Ferrari. I'll be damned if your old Shelby ain't shining prettier than all of them!" The valet kid said.

My 67 Shelby GT obviously doesn't have the newest paint. After giving it a good wash, it was time to try this out.

"1967 would you believe it?" I told him.

"A classic. She might be old but that paint is still gleaming like it just came off the lot." He said.
Final Thoughts
I'm absolutely stunned by this product! I think professional-grade products for your car are always best, and I have seen a drastic improvement. It's only been a week, and I've already thrown out a bunch of products. I would recommend this product to everyone with any type of car or paint type. It's a complete game-changer and leave the car looking glossy and protected.
Ceramic Spray also works on any surface! And now that I've experienced the amazing benefits of detailing my car with Ceramic Spray, I will definitely order a few more bottles. Between my wife and 2 kids, we've got 5 cars in the driveway, so I'd like enough for every car. For people with larger families that have a fleet of cars, I'd suggest ordering Ceramic Spray for every car. The first time I tried to order one, they were all sold out. Getting them all at once will make things a lot easier!
Special Offer
As a special introductory sale, the company is now offering Buy 2 Bottles, Get 1 Free, plus Free Shipping to all new customers.
This deal can be removed at any time, so act now to take advantage of this special offer.
Plus, if you aren't totally happy with Ceramic Spray, return them for a full refund. No questions asked!
Ceramic Spray makes a great gift for any car owners as well! Check Availability »
Check Availability >>
Click the link above to see if Torque Detail is still offering a 50% discount and free shipping
REVIEWS
This is how our website visitors rated Ceramic Spray.
Based on 759 Reviews
Value for money

Ease of Use

Results